Hydraulic cylinders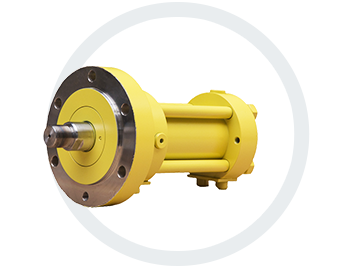 We make hydraulic cylinders for a wide range of applications. The company´s complex technological facilities and sophisticated quality management system ensure the high quality of the hydraulic cylinders that it supplies. Our design engineering department works closely with the customer on development, so that the hydraulic cylinder has the optimal design for the specific operating conditions.
Our hydraulic cylinders are applied mainly in
hydraulic pressing and crushing machines
injection presses
curing presses
construction and road-building machinery
power generation equipment
municipal facilities
operating platforms
mining industry
agricultural and forest machinery
Manufactured types of hydraulic cylinders
single-acting – plungers
double-acting – differential and linear
single-acting telescopic cylinders with 2-5 stages
double-acting telescopic cylinders with 2-4 stages
Parameters
maximum operating pressure of 320 bar
high-pressure hydraulic cylinders with operating pressure of 700 bar and maximum power of 400 tons
cylinder diameter of 20-350 mm
maximum cylinder stroke of 4.000 m
Design
welded
bolted – heavy-duty range according to ISO 6022 up to 250 bar
pinned – light-duty range according to ISO 6020 up to 160 bar
cylinders also with integrated hydraulic locks or down-draft valves
with linear position gauging for sophisticated hydraulic circuit control
with dampening in end positions – fixed or adjustable
Materials used
Piston rods
standard rods of CK45 or 20MNV6 materials
surface-hardened CK45 or 42CrMo4V
heat-treated and chrome-plated in company operations
stainless AISI316, 329+Cr25microns
Tubes
St52.3
20MnV6
stainless quality grade 17240
Sealing
from remowned manufacturers quaranteeing long durability
We design cylinders based on our own operating parameters and integrating dimensions or based directly on documentation supolied by the customer.
We repair hydraulic cylinders from Ø 25 mm to Ø 180 mm and a stroke of 2200 mm. We are capable of honing the working diameter of the cylinder and repairing the active diameter of the piston rod by hard chroming and replacing all seals. Each cylinder is subjected to a hydraulic pressure test.
Photogallery
CHARVÁT AXL, a.s.
3. května 800
513 01 Semily
Czech Republic
ID: 60913959
VAT ID: CZ60913959
Phone No: +420 481 654 316
Fax: +420 481 623 336
E-mail: axl@charvat-axl.cz