Heat treatment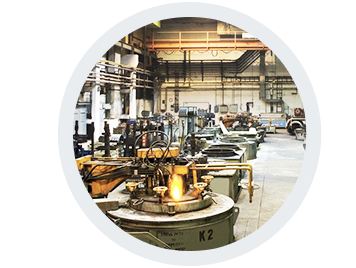 The heat treatment and chemical heat treatment processes are carried out in a set of shaft furnaces where the parts can be heated in a controlled atmosphere, avoiding decarburization and scaling. The furnaces are controlled (temperature, cementing potential) with the use of an exhaust gas oxygen probe and programmable controllers with a higher-level computer. This system enables the completed heat treatment processes to be comprehensively documented.
Heat treatment testing:
hardness test by Brinell (HBW) – ČSN EN ISO 6506-1,
hardness test by Vickers (HV) – ČSN EN ISO 6507-1,
tensile test by ČSN EN ISO 6892-1 (strength limit, yield point, elongation, reduction),
impact bending test by ČSN EN ISO 148-1 (impact value),
metallographic analysis of steel and alloy structures.
Limiting parameters:
maximum component diameter 600 mm,
maximum component length 1200 mm,
maximum weight of charge 800 kg (gross),
maximum process temperature 980°C.
Annealing
normalizing
isothermal (BG)
stress-relieving
soft
Cementing
Heat treatment and hardening
oil hardening
AS 140 salt bath hardening
Isothermal hardening
AS 140 salt bath hardening
advantage is a higher impact value of treated parts
ADI technology
isothermal hardening of ductile cast iron
AS 140 salt bath hardening
Low temperature and high temperature tempering
Aluminium alloy curing
CHARVÁT AXL, a.s.
3. května 800
513 01 Semily
Czech Republic
ID: 60913959
VAT ID: CZ60913959
Phone No: +420 481 654 316
Fax: +420 481 623 336
E-mail: axl@charvat-axl.cz